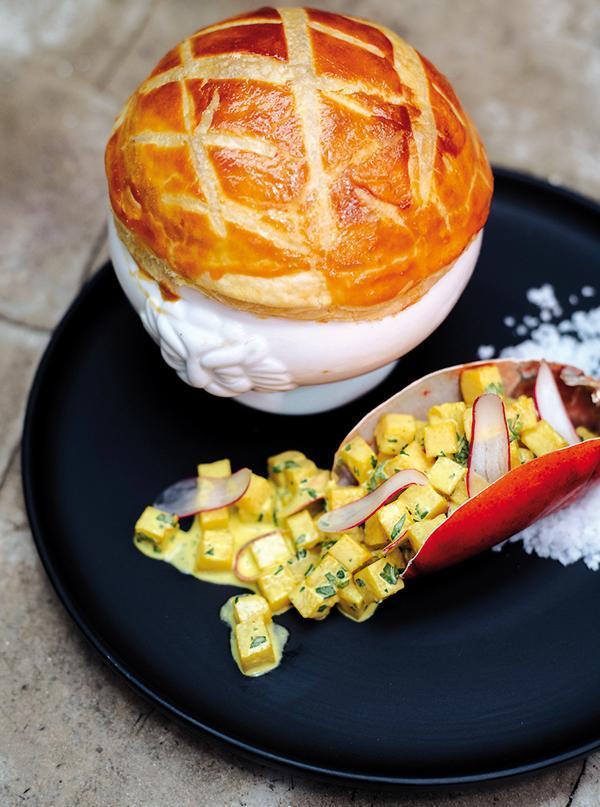 The scrumptious lobster bisque en croute, covered in a crispy puff pastry jacket, is served with an aromatic saffron potato salad. (Photo provided to China Daily)
A must go-to destination for upwardly mobile professionals and small groups on a night out with friends, Lily & Bloom lies in the heart of the city on Wyndham Street. Easily accessed from Lan Kwai Fong, the venue offers a double destination for those who might like to precede dinner with a round of drinks.
Tasty snacks are available at the bar on level 6, and full menu service in the restaurant floor at level 5. There have been some changes in the restaurant, including a not-so-recent transplant from New York City. Having started his career at the Michelin-starred restaurant, Cafe Boulud in New York, Chris Grare is now executive chef at Lily & Bloom.
He's originally from Jersey in the US, and his food style is being described as "true" American cuisine and "food like Mama used to make" by my American expatriate friends.
Chris already has proved his credentials in Hong Kong during his tenures at Cafe Gray Deluxe at The Upper House and The American Club. Hearty meat dishes and stick-to-your-ribs are his signature preparations.
He is very particular about the provenance of the meats he uses. His 45-day dry-aged cowboy steak originates from the renowned Chicago purveyors of premium quality meats, the Linz Brothers. This 35oz steak is priced at HK$1,400. It will easily feed two people.
Starter dishes at the restaurant include a selection from Lily & Bloom's collection of small portions, such as the appetizer, Chef Grare's new pork belly bun, for just HK$95. This comes mixed with pineapple and peppers, and tastes both sweet and sour. Sounds like a good enough supper in itself.
There's a very delicious cured salmon for HK$115 combining an intriguing medley of horseradish, pickled beet and caviar in a flavorful dish that highlights each ingredient individually.
Although meats are a prime focus at the venue, sustenance from the sea is well represented too. A large dish of fresh steamed garoupa (HK$315) comes with sautéed water spinach and tempura prawns in a lemongrass broth. The soupy element is enticingly tangy and enhances the delicacy of the fish.
One of the most outstanding dishes I've had here is the scrumptious lobster bisque en croute (HK$125) that comes nestled in a crispy puff pastry jacket. The buttery tastes of the puff pastry matches so well with the crustacean and delivers just the right amount of crispness to balance the full flavors of the lobster. The pie is accompanied by an aromatic saffron potato salad.
Another delectable dish, and Chef Grare's specialty, is the sea urchin parfait at HK$185. It's a treat by itself, when served with the crispy accompaniment of black sesame cracker, sea grapes and dashi.
The lamb duo with parsley potato, mushroom fricassee and chimichurri is so tender it will melt in your mouth. It's for just HK$325. And if you like a good cheese, there's cacio e pepe prepared in a 36-month-aged parmigiano reggiano wheel right by your tableside for HK$195 per person.
Moving up one level to the 6th floor, you will probably find a good DJ with a fine taste in music that's not run-of-the-mill. He does much to keep the clients on their toes in the buzzing bar.
IF YOU GO
The above news content from china daily.