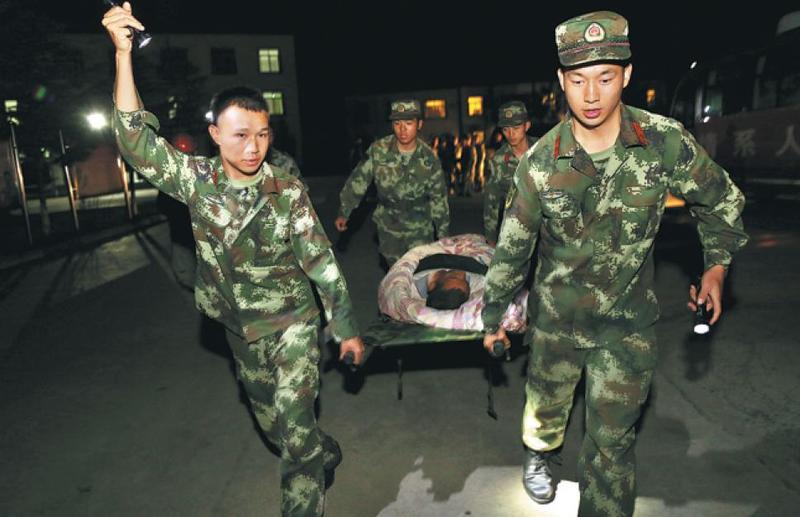 Armed Police officers rescue injured people after a 7.0-magnitude earthquake hit Jiuzhaigou county, Sichuan province on Aug 8, 2017. (YANG JIAN / FOR CHINA DAILY)

CHENGDU/BEIJING/URUMQI – Death toll in an earthquake measuring 7.0 on the Richter scale that struck a remote area in southwest China's Sichuan province Tuesday night has risen to 13, the information office of the provincial government said on Wednesday.
As of 9:30 am Wednesday, the earthquake had also left 175 injured, according to the information office.
At least five of the deceased persons were visitors to the popular tourist destination of Jiuzhaigou, the epicenter.
The earthquake jolted Jiuzhaigou county at 9:19 pm Tuesday, and the epicenter was pinpointed to 33.2 degrees north latitude and 103.82 degrees east longitude. The quake struck at a depth of 20 km, according to the China Earthquake Networks Center (CENC).
Jiuzhaigou, or Jiuzhai Valley, is a national park known for spectacular waterfalls and karst formations. More than 34,000 people visited the tourist attraction on Tuesday.
Chinese President Xi Jinping has called for all-out efforts to rapidly organize relief work and rescue the injured people after the quake. Premier Li Keqiang also urged local authorities to go all out in relief and monitoring work.
The earthquake jolted Jiuzhaigou county at 9:19 pm Tuesday, and the epicenter was pinpointed to 33.2 degrees north latitude and 103.82 degrees east longitude



"Some of the injured persons suffered fractures in hands or feet. The most seriously wounded I saw was a boy. I could only see his eyes, since other parts of his head was bandaged," an armed police officer at the people's hospital of Jiuzhaigou county told Xinhua Wednesday morning.

Two foreigners – a French man and a Canadian woman – were injured during the quake. Maxence Vallon, 18, was wounded in both legs while the Canadian woman, who declined to be named, suffered slight injury in the head. Both are being treated at a hospital in the county.
Exact number of casualties of foreign nationals in the disaster are not available yet.
The local government has sent tourist coaches and privately-owned vehicles to the affected areas to help ferry out stranded tourists. More than 100 tourists remain trapped at the Ganhaizi scenic spot of Jiuzhaigou, as part of a mountain nearby collapsed and blocked traffic. More than 10,000 tourists had been ferried out as of 8 am and the rest were expected to be evacuated by Wednesday night, according to the provincial quake relief headquarters.
The disaster reduction center of the Ministry of Civil Affairs predicted, based on a preliminary assessment, that the quake might have left 24,000 homes severely damaged.
China Earthquake Administration has sent a 55-member work team to the quake-hit site, and its branches in Sichuan and Gansu provinces have also dispatched their own teams. So far, Jiuzhaigou County has pressed more than 90 emergency vehicles and 1,200 personnel into rescue work.
The county also sent consultants to hotels, rural inns and streets to offer possible counseling service for tourists. Power, communication and water supply in the county seat have largely recovered.
The quake was felt in the provincial capital Chengdu about 300 km south of the epicenter, and other regions in the neighboring provinces of Gansu and Shaanxi. As of midnight, a total of 108 aftershocks were recorded, all below 4.0 magnitude. The population density within 50 kilometers of the epicenter is nine people per square kilometer.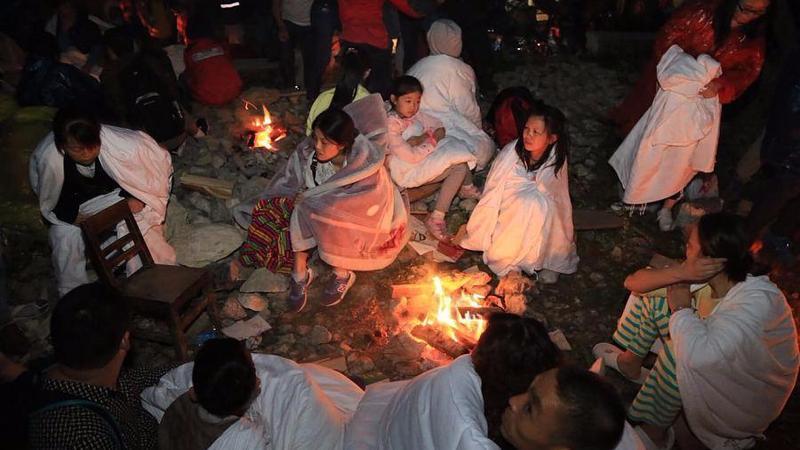 Hundreds of people affected by the earthquake spend the night out in the open in Jiuzhaigou, Southwest China's Sichuan province, Aug 8, 2017. (PHOTO / VCG)

Sichuan is a quake-prone region. In May 2008, an 8.0-magnitude earthquake struck Wenchuan and killed more than 80,000 people. In 2013, a 7.0-magnitude quake hit Lushan, killing 196.
The China Earthquake Administration declared the highest level of the four-tiered emergency response system for earthquakes, and dispatched officers to the region to deal with emergencies.
Police in Jiuzhaigou had reached the epicenter to maintain order in the area, said the Armed Police Force's Sichuan Provincial Corp. Other forces around the area also were standing by.
"Our departments, including the emergency and rescue centers as well as subbureaus in the provinces of Sichuan, Gansu, Qinghai, Shaanxi and the Ningxia Hui autonomous region, have been all standing by and asked related workers to be on duty, monitoring aftershocks, collecting information and making evaluations of possible disasters," the administration said on its official website.
The province's Party chief, Wang Dongming, asked all governmental departments to stand by and dispatched a work team to lead the rescue. He said the priority is to reduce any deaths or injuries and prevent post-quake damages.
Tremors were felt in the provincial capital of Chengdu and as far away as Xi'an, capital of Shaanxi province, according to media reports.
A quake in Wenchuan county, Sichuan, on May 12, 2008 killed almost 70,000 people.
SICHUAN MOVES TO GATHER TOURISTS' INFORMATION
Tourism Development Committee in Sichuan province is collecting information about tourists in Jiuzhaigou, China National Tourism Administration said on Wednesday.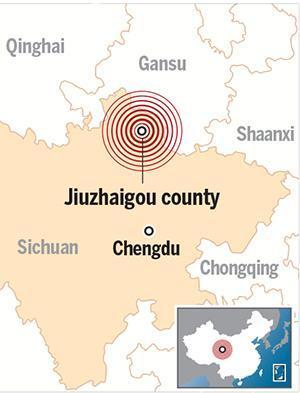 As summer is a busy season for Jiuzhaigou and the number of tourists traveling there increased greatly in recent days, Sichuan tourism committee has been collecting and gathering information about tourists and is cooperating with travel agencies, local government and hotels to evacuate.

Data from Jiuzhaigou National Park showed that more than 38,000 tourists were travelling at the scenic spot on Tuesday. About a half was traveling by themselves and the others were in tour groups.
The Sichuan tourism committee has asked tourism administration authorities in neighboring cities such as Mianyang and Deyang to offer necessary help to tourists.
Tourists in Jiuzhaigou could call 12301 – the national tourism service hotline - for help, the national tourism administration said in the notice.
XINJIANG REPORTS 6.6-MAGNITUDE QUAKE
Three villagers were rushed to hospital after their home collapsed in a 6.6-magnitude earthquake that jolted Jinghe County in Bortala Mongolian Autonomous Prefecture in northwest China's Xinjiang Wednesday morning.
According to the CENC, the earthquake occurred at 7:27 am (Beijing Time).
People in neighboring cities of Urumqi, Changji, Yining and Karamay felt strong tremors that lasted 10 to 20 seconds at the time of the quake.
The quake struck at a depth of 11 km, the CENC said in a statement. The epicenter was 37 km from Jinghe County seat, 93 km from the prefectural capital of Bole city, and 383 km from Urumqi.
Both the state and regional earthquake administrations have activated emergency responses and sent working teams to assist earthquake relief works.
Jinghe County has a population of about 150,000 based on the 2014 census. A total of 65 quakes greater than magnitude 3 were recorded within 200 km of the epicenter over the past five years, with the current one the greatest
Huang Zhiling in Chengdu and Zhao Xinying and Cao Yin in Beijing contributed to this story.
The above news content from China Daily.