In the healthcare sector, Blackmores and GNC are household brands in Western countries, but in the Chinese healthcare sector, few traditional Chinese healthcare products have internationally competitive brands.
Zhongning, touted as China's wolfberry production center, envisions its namesake brand popularizing itself in the global market, never resting on laurels granted by the State Administration of Industry and Commerce and other government authorities.
Zhao Jianxin, Party chief of the county of Zhongning, said: "Last year, the assessed brand value of Zhongning wolfberries by authoritative assessment organizations hit 3.2 billion yuan ($473 million). I believe the figure could reach 10 billion yuan in the near future."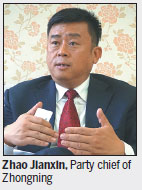 According to Zhao, one third of the citizens' income comes from wolfberries, the county's industrial pillar.
"During the picking-up season, from the middle of June to the end of October, a worker can earn about 150 yuan every day by picking wolfberries," he said.
"We have regarded the wolfberry industry as an important method to help improve the lives of 12,774 members of the local povertystricken population," said Zhao. "After all, the picking is an annual demand. After that, they can go to the processing factory to earn more."
As for the future of the wolfberry industry, Zhao said the traditional sales of dried wolfberries could be turned into various processed products linked to human's healthcare.
"Generally speaking, the main product sold to customers is dried wolfberry," he said.
"However, as Chinese people attach more importance to the quality of their life, especially the safety of food and healthcare, we plan to develop new products to meet the needs of different target customers, such as weight-loss products composed of wolfberry extract for females and wolfberry jam for foreign customers," he added.
"'Small wolfberry, big health' is our slogan," he said.
As well as health-related products, he also mentioned a plan to build a wolfberry-themed town where tourists can go sightseeing, plant wolfberries and take a vacation.
"We expect to develop industries and services based on the traditional advantages of the agriculture," he said.
The above news content from China Daily.