Editor's note:
The TV series Midnight Canteen, adapted from hit Japanese manga of the same title, aired on Chinese TV in June but caused a lot of controversy online, criticized by many as copycatting the Japanese TV version and losing Chinese characteristics. The TV drama was rated at only 2.8 points out of 10 on douban, China's major film and TV review website, overwhelmed by criticism that it's not presenting an authentic Chinese midnight culinary culture.
Now the question is: What do Chinese eat at midnight? What are their favorites? Here is a list for the foodie in you.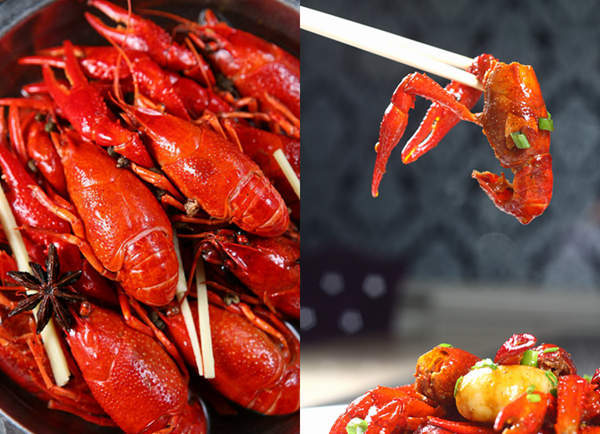 1. Spicy crayfish
Spicy crayfish has become a sensational evening snack across China in recent years, originating from central and eastern parts of China, including Hunan, Hubei and Jiangsu provinces.
The crustaceans, also known as "little lobsters" in China, have a nickname in Chinese, ma xiao (spicy little lobsters), as they are often served in hot and spicy chili sauce.
Beer is a favored beverage to pair with the delicacy.
China's crayfish market is worth more than 140 billion yuan ($20 billion), according to media reports. Nearly 18,000 restaurants focused on serving crayfish as of August 2016, three times the number of KFCs in the country.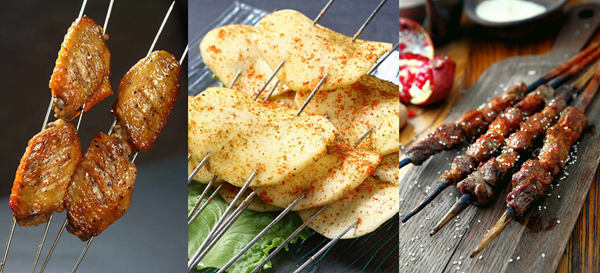 2. Barbecue
From lamb, fish and pork to mushrooms, cabbage and corn… almost all foods can be barbecued on grills at late night snack stalls across China.
A wide choice of sauces is offered to add flavor to the barbecued delicacies, no matter if you are a chili lover or a fan of cumin powder.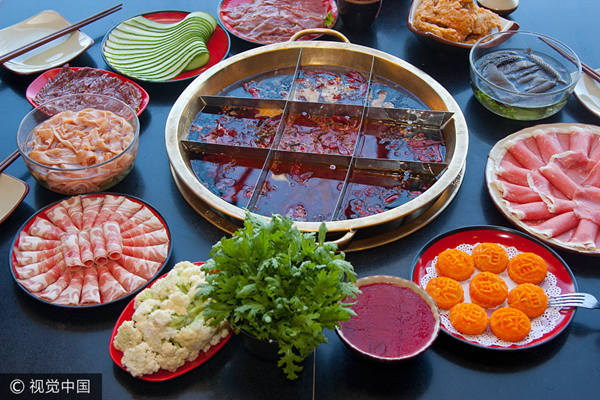 3. Hot pot
Born in Southwest China's Sichuan and Chongqing provinces, hot pot is now almost everywhere in China.
With plates of meat, vegetables, and whatever raw foods that consumers choose served on tables, the strongly-flavored, oily but mouthwatering dish easily cheers people up at late night gatherings regardless of the season.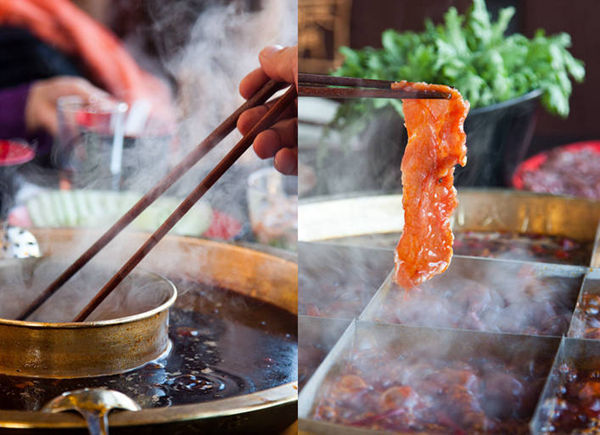 People dip raw foods into boiling soup filled with ingredients such as mushrooms, tomatoes and chili. [Photo/VCG]

4. Stir-fried rice noodles with beef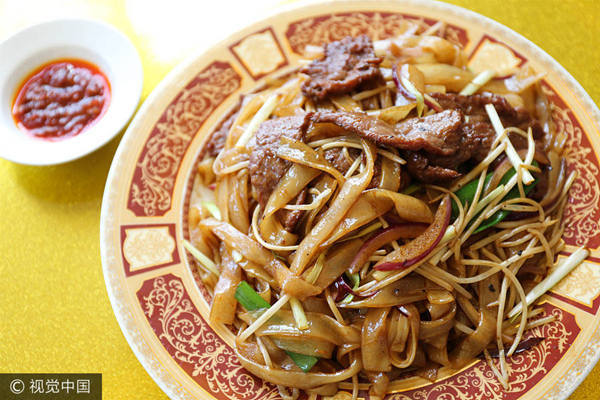 Stir-fried rice noodles with beef is a favored dish in Cantonese cuisine and a popular night meal especially in South China's Guangdong province. [Photo/VCG]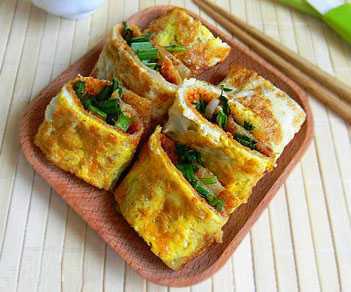 5. Grilled cold noodles
Known as kaolengmian in Chinese, the grilled cold noodles were originally a quick street snack in Northeast China, which has now spread to many other places. In the capital city of Beijing, for example, it's not rare to encounter a cart or a street stand selling the noodles.
The cooking process is simple. A thin, pre-made sheet of dough is placed on a sizzling flat skillet before an egg is cracked and spread over it. It's then sprinkled with scallions, chopped onions and cilantro.
6. Hunan rice noodles
Hunan rice noodles are among the favorites for late night food seekers especially in Central China's Hunan and Hubei provinces. There are usually two types of rice noodles, round and flat, served fried or in soup. Various flavors and toppings are available to add: pork ribs, beef, mushrooms and different spices.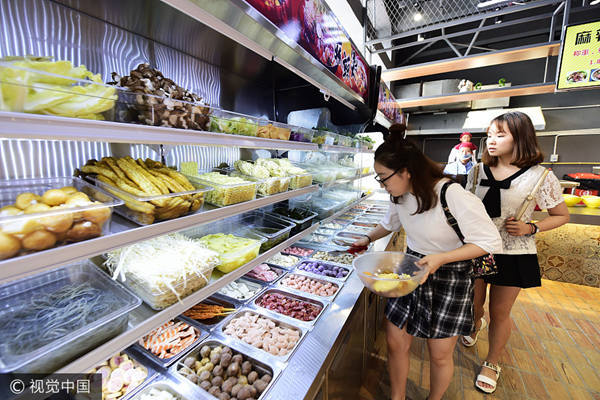 7. Malatang
Malatang literally means numb, spicy and hot in Chinese. In malatang restaurants, or stalls, skewers of meat, vegetables, bean curd products and many other foods are put on shelves to be chosen by consumers. The selected ones are then cooked in boiling soup with fiery sauce. [Photo/VCG]
The above news content from China Daily.