Yantai's promotion of its tasty apples has reaped huge rewards for fruit farmers in the city in East China's Shandong province.
The coastal region now has more than 130,000 mu (8,666 hectares) of orchards growing intensively cultivated dwarf apple trees.
Yantai apples have become one of the top brands in China, which is helping local farmers rake in even more profits.
The seeds of Yantai's success have been continuous policy support by the local government, new technology, green development, integrated industrial development and effective brand building.
Policy support
The government has launched a series of initiatives setting targets for the apple industry's development and taking action to accelerate the industry's growth.
It also allocates fiscal funds every year to support the construction of intensively cultivated dwarf apple orchards, high-quality apple demonstration bases, and new variety and technology exhibition parks.
Technological innovation
As for challenges plaguing the development of apple growing, including aging of fruit trees, deterioration of orchard soil and pest infestations, professional research institutions such as Yantai Comprehensive Experiment Station of the National Apple Industry Technology System have been making efforts to cultivate eleven new virus-free varieties including Yantai Red Fuji No 3.
Green development
Yantai has been making efforts to improve the apple industry's green development, centered on the intensive cultivation of dwarf apple trees. It has introduced eight high-quality apple varieties and more than 100 dwarf apple trees from home and abroad.
More than 20 apple tree national- and municipal-level breeding centers have been set up in the coastal city, which can breed more than 26 million young apple trees per year.
The city was recognized as one of the first batch of "regional breeding centers of excellent apple trees" by the Ministry of Agriculture in January 2017.
The city is also accelerating the development of ecological and circulatory agriculture combining animal husbandry, marsh gas production and fruit planting, which greatly helps save energy and protect the environment.
With strict restrictions on the use of pesticides and fertilizers in apple orchards, the usage of pesticide in the city has been reduced by more than 10 percent.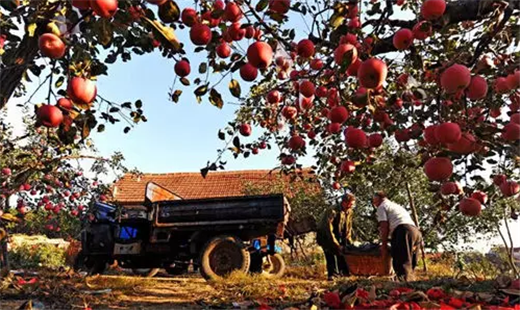 Fruit famers busily go about their jobs in an apple orchard during the harvest season in Yantai, which is China's largest production and processing base for apples. [Photo/yantaifabu]

Integrated industrial development
The city has taken measures to integrate the planting, sale, storage and processing of apples.
To help farmers master scientific planting techniques and enhance management efficiency, the city has invested 100 million yuan ($15 million) to foster the growth of local agricultural cooperatives.
It's estimated that 413,000 farmers has become members of the cooperatives, who take care of 1.2 million mu (77,000 hectares), or about a quarter, of the city's apple orchards.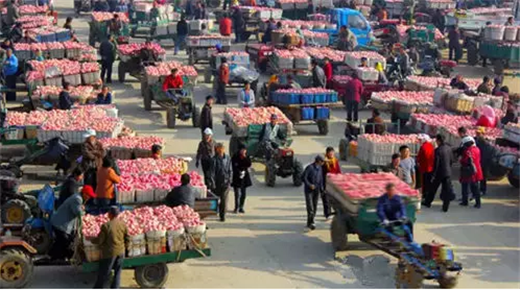 Apples are carted to a collection spot in Yantai, East China's Shandong province. [Photo/yantaifabu]

To help boost the sales of Yantai apples, the city has founded the nation's first direct e-commerce platform — Qixia Fruit Auction Center Company.
The city has also strengthened its support for companies specialized in fruit storage and processing. A total of 1,384 fruit storage warehouses have been established in the city, with a storage capacity of 3.27 million tons.
With state-of-the-art production lines, the city is capable of producing 2.17 million tons of juice and 87,000 tons of canned fruits and 88,000 tons of dried fruits.
Brand building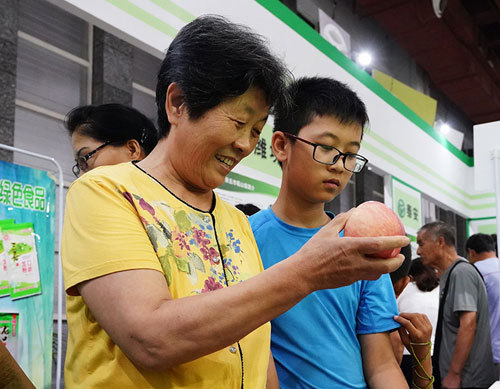 A Baotou resident inspects an apple produced in Yantai at the city's organic food promotional event on Aug 19, 2017. [Photo/nmgnews.com.cn]

To boost the profile of Yantai apple, the city has introduced a series of policies and held several promotional events across the nation.
In 2016, the brand value of Yantai apple reached 12.6 billion yuan, ranking the first among the nation's fruit brands for the eighth consecutive year.
The above news content from China Daily.