Vacuum fried vegetable chip (VF veggies chips in short) is a kind of dried vegetable chips, keeps the original shape and color of fresh vegetable. As a kind of health chips, VF veggies chips are more and more popular in global market. 
    VF veggies chips are made from well-chosen superior IQF or fresh vegetable, using vacuum frying technology, the IQF vegetable turned into natural delicious chips after the oil bath. This kind of chips is very light, moisture less than 5%, taste crispy, except oil and sugar, without any other additives,much more healthier, natural and safe.  
    At the first, VF veggie chips are popular in Japan market, recent years, it is more and more popular in America, Australia, Mid-East and Europe. More and more people would like to choose this kind of chips for their leisure time.
    VF veggie chips are up to the mustard of HACCP. All the original and end product are test at any time to ensure the quantity and safety.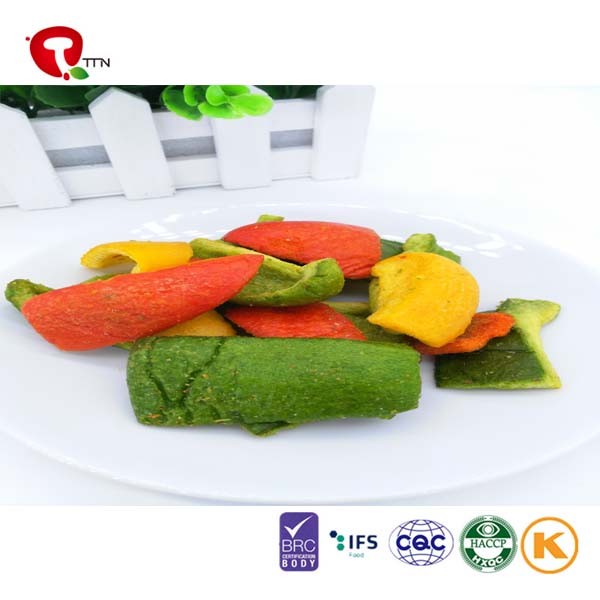 1. To prevent cardiovascular disease Can improve dark spots and freckles, and heat, blood, eliminate fatigue, promote blood circulation and prevent colds, can make the good cholesterol in the blood increases, make blood-vessel is strong, make the blood circulation to good, improve the hardening of the arteries and various cardiovascular diseases.
 2. Promote metabolism The pepper alkali can promote the metabolism of fat, prevent adipose accumulate in the body, prevention so as to lose weight.
3. The anti-aging Red bell pepper have strong antioxidant effects, can resist cataracts, heart disease and cancer, prevent aging body, and make the body cell activation, there is a very obvious effect.

Colourful pepper nutritional value

1. Sweet pepper contains rich vitamin A, vitamin B, vitamin C, carbohydrates, fiber, calcium, phosphorus, iron and other nutrients, is also A vegetable the highest levels of vitamin A and C, especially in the mature period, the fruit of the nutrients in addition to not increase vitamin C content, other nutrients are increased five times, so more nutritional value is higher than with ripe fruit sweet pepper green bell pepper. Red bell pepper contains rich vitamin C and beta-carotene, and the more the more red.

2. The bell peppers contains a chili red element, also contains a lot of potassium, vitamin C, vitamin E, etc.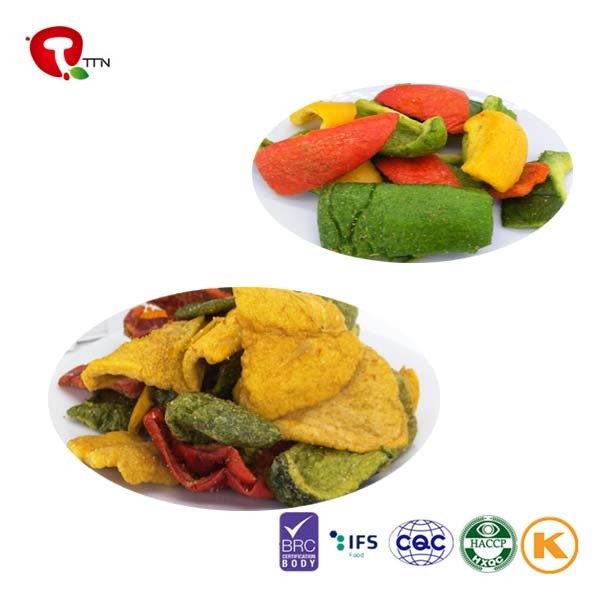 VF Color Pepper Product Details
VF Veggie Chips information
Product Name
VF Color Pepper Chips
Raw Material
IQF or fresh color pepper, Palmp oil or Rice bran oil, Maltose syrup 
Color
Color Pepper original color
Shape
Slice
Taste
Crispy
Moisture
≤5%
Package
Weight
4-10 kgs/carton
Outer package
Carton
Inner package
Aluminium foil bag with nitrogen filled
Storage
Temperature
≤25℃
Moisture
≤50%
Shelf life
9 month in right condition
Microbiologicals properties
KOH (in terms of fat)
≤5.0 mg/g
Peroxide Value
   (in terms of fat)
≤0.25g/100g
Nitrite (in terms of NO2)
≤4.0mg/kg
Total Arsenic
(in terms of As)
≤0.2 mg/kg
Lead
(in terms of pb)
≤0.2 mg/kg
Coliforms
≤30 MPN/100g
Salmonella
Absent
Staphylococcus aureus
Absent
HCH / DDT
≤0.1 mg/kg
Permethrin
≤2.0 mg/kg
Methamidophos
≤2.0 mg/kg
Fenitrothion
≤0.5 mg/kg
Dichlorvos
≤0.2 mg/kg
Patulin
≤50 Ug/kg
What's the usage of VF Vegetable?

Backpacking food, camping food, healthy snacks,quick-and-easy cooking at home and raw material of end products.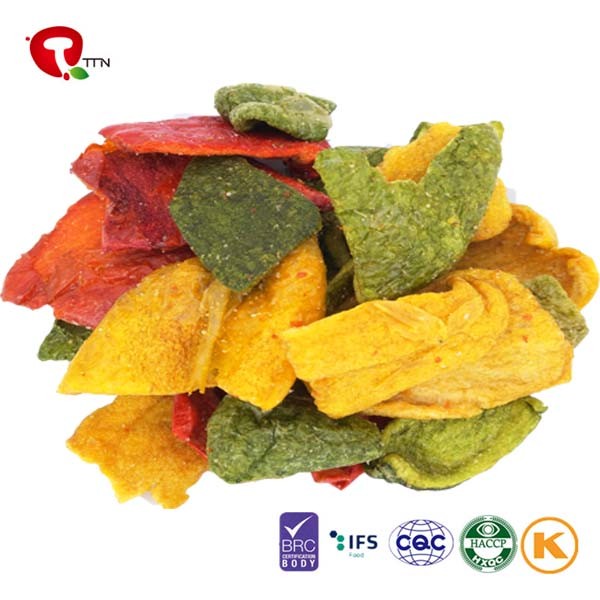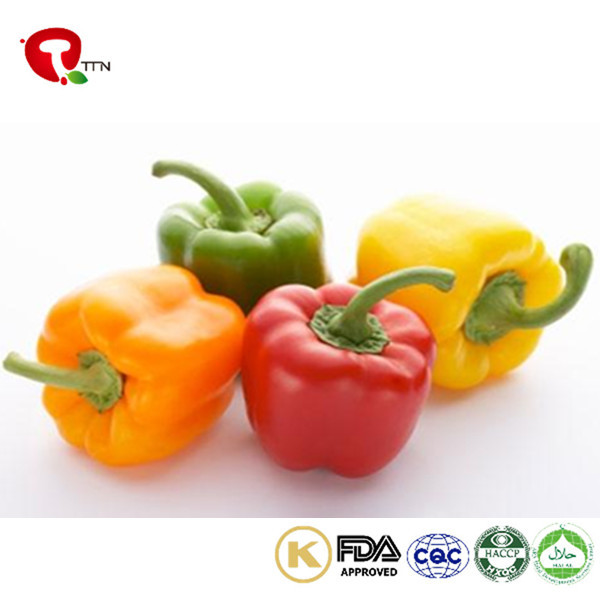 Colourful pepper production skills

1. Bell pepper is applicable to fry, mix, spicy food, such as "chicken", "green pepper shredded pork", "sweet and sour peppers", etc.; 
2. Vitamin C is not heat resistant, easy to be damage, especially in bronze, so avoid using copper tableware;
3. When cut the chili, knife dipped in cold water first, then slice is not spicy eyes; 
4. Green pepper unique modelling and growth, is spraying pesticide accumulation in the sag GuoDi, therefore when cleaning should go first.