What is Vacuum Fried Vegetable Chips (VF veggies chips)? 

    Vacuum fried vegetable chip (VF veggies chips in short) is a kind of dried vegetable chips, keeps the original shape and color of fresh vegetable. As a kind of health chips, VF veggies chips are more and more popular in global market. 
    VF veggies chips are made from well-chosen superior IQF or fresh vegetable, using vacuum frying technology, the IQF vegetable turned into natural delicious chips after the oil bath. This kind of chips is very light, moisture less than 5%, taste crispy, except oil and sugar, without any other additives,much more healthier, natural and safe.  
    At the first, VF veggie chips are popular in Japan market, recent years, it is more and more popular in America, Australia, Mid-East and Europe. More and more people would like to choose this kind of chips for their leisure time.
    VF veggie chips are up to the mustard of HACCP. All the original and end product are test at any time to ensure the quantity and safety.  
The Nutritional Value of onions

1, to prevent cancer. Onion sulfur-containing organic compounds, can induce carcinogenic substances (such as: nitrite) detoxification enzymes, it can prevent gastric cancer, esophageal cancer, colorectal cancer and so on.
2, to prevent aging. Onions can control blood sugar, indirectly prevent AGE generation, to prevent aging.
3, lower blood sugar. Spot trials show that onions can be used as anti-diabetic drugs, is safe and effective anti-diabetic food.
4, to improve constipation. The sulfur composition of the onion in the large intestine and protein, or intestinal bacteria combined to form hydrogen sulfide, can promote bowel movements. Rich in soluble fiber can stimulate the intestines, so that exercise more robust, and  oligosaccharide can inhibit intestinal proliferation of bacteria, effectively improve the common symptoms of constipation girls.
5, to improve eye fatigue. Glutamate is too much to promote corneal collagen synthesis, maintaining the transparency of the crystal. Onion is rich in glutinous rice, the experiment found to improve eye fatigue, eye blur effect.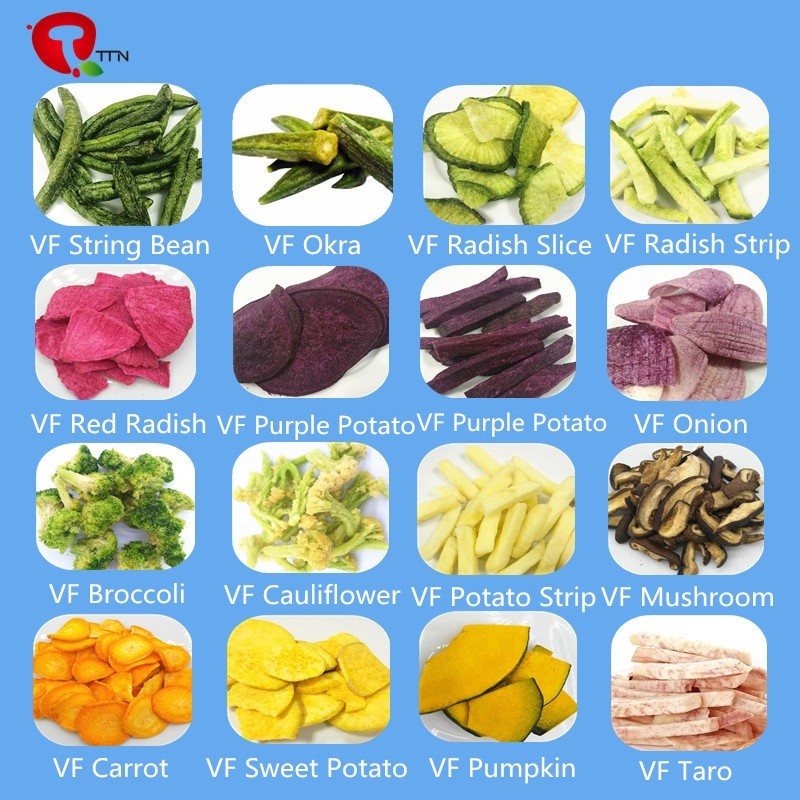 Why you need VF veggie chips?
Advantage of VF veggie chips
1. Made from IQF or fresh vegetables, except oil and sugar, without any other additives, much healthier.

2. All real vegetables, taste crispy, instead of other fat snacks, bring you health and fibrin, help you control your weight.

3. VF veggie chips range is wide, can help you get more clients and market.

4. Shelf life long to 9 month, help you save money.

5. Moisture less then 5%, very light, less weight can make your packages very full.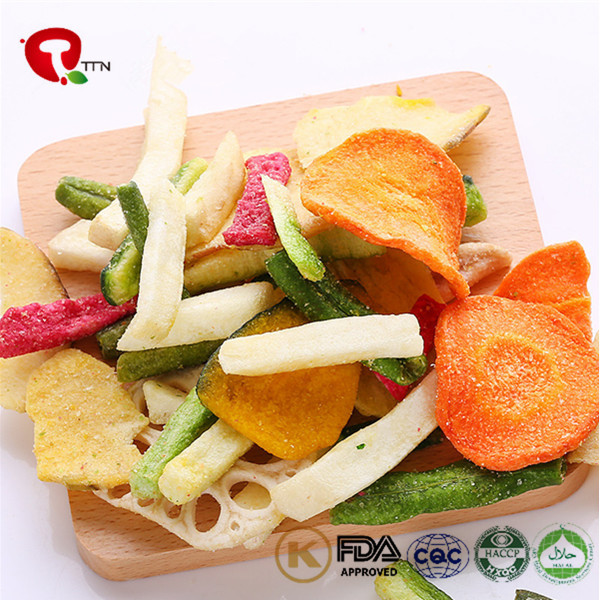 Certificate we have