Freeze dried vegetables or food, its biggest characteristic is to retain the product's color, aroma, taste, shape and the original ecological food nutrients, also known as space food,
  It is a natural, green, safe and convenient nutritious food. Water (H2O) can present solid (ice), liquid (water) and gaseous (vapor) under different pressure and temperature.From liquid to gas is called "evaporation" transferred from solid to gas is called "sublimation". The vacuum freeze drying is the substance contains a lot of moisture, cool frozen into a solid advance. Then under the condition of vacuum water vapor sublimation directly from the solid material, and the body remain frozen in the the ice shelf, so it dry volume, and becomes loose, porous, water resistance is good. In a word it is dried in low temperature and low pressure heat transfer.

Packing & Delivery
Bulk packing aluminum foil bag, hot sealing closely, carton, not nailing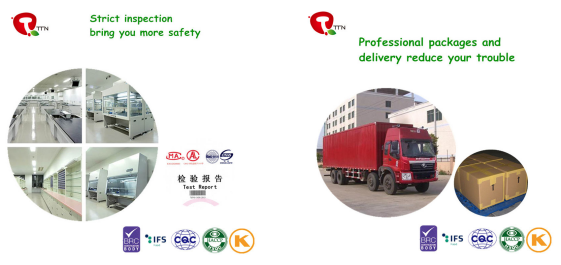 Health effects
 

1. relieve fatigue, clearing away heat and heat, thirst, diuretic diarrhea;
 

2. high nutritional value of strawberries, rich in vitamin C, has the effect of digestion, can treat loss of appetite;
 

3. to consolidate the gums, fresh breath, moist throat, Liyan cough;
 

4. used in wind-heat cough, sore throat, hoarseness, cancer, especially nasopharyngeal cancer, lung cancer, tonsil cancer, laryngeal cancer patients.
 

 

Use Of FD Strawberries

1.direct consumption: that is, strawberry flavor, taste good, did not add any condiments and additives, please do not talk about not tasty, this is not based on delicious in the market.
2. tea with: roses, lemons, Roselle flowers, sweet-scented osmanthus, pineapple tablets, mango tablets, made of delicious flower tea. Tea taste good Oh, you can also strawberry with a small amount of blisters after adding yogurt, made of strawberry yogurt, or salad and so on.
3.other practices: to make milk when children can put strawberries oh, to ensure delicious, when making cookies can be put into the strawberry powder.
4. Embellishment of strawberry smash on the cake, not only looks beautiful, but also eat the effect of the mouth is great.

FAQ:
Q1: Can you send us a sample?
 we can send you less than 20g for free,The freight is borne by buyer.
 Q2: Our mode of transport?
    Large quantities of products are transported by sea,Small quantity of products or              urgent products are express delivery.
 Q3: Information to be provided before quotation?
   In order to offer a better offer, we give you some advice:
  1.Specifications, order quantity.
   2.Your company name, website, detail address, mobile number and Nearest port?
  3.You need delivery time.
How to contact us?
Company information
Company name
TTN (TIANJIN) METAL IMPORT AND EXPORT CO.,LTD
Address
508 Tower B Xiangnian Plaza Dongjiang Road Hexi District Tianjin China
Wesite
www.tjttn.com
Email
fruit@tjttn.com
Tel
+86-22-28299556
Fax
+86-22-28299557
Contact person
Nancy / Amanda / Laurie